Forgiveness at the Cross | Luke 23:35–49
For the latest Bible Studies, Click Here!
There is only one way to be saved, through Jesus sacrifice at the cross. There is forgiveness still being offered at the cross of Christ today.
The Mocking at the cross:
[TEXT>>] 32 There were also two others, criminals, led with Him to be put to death. 33 And when they had come to the place called Calvary, there they crucified Jesus, and the criminals, one on the right hand and the other on the left.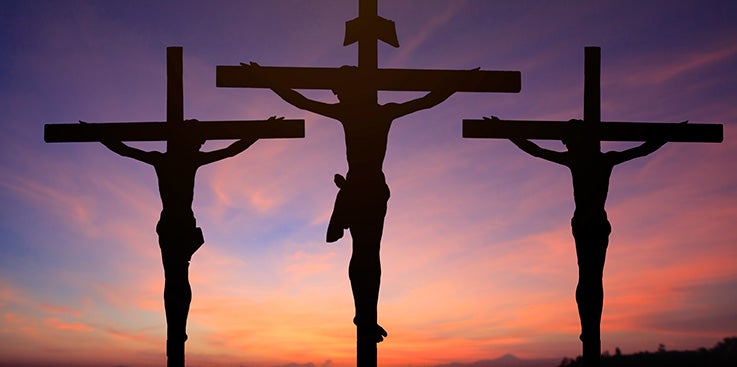 The Greek word "criminal" used can be translated: A good for nothing, evil doer. or someone who does evil deliberately, deserving of punishment for their acts… In this case, crimes deserving of death…
[TEXT>>] 34 (amidst the screams of pain from those whose flesh was being thrust with nails, amidst his own suffering) Jesus (cries out), "Father, forgive them, for they do not know what they do.
The soldiers, the women, those who had followed Him to the place of the Skull, could hear his continuous prayer. "Father, forgive them, for they do not know what they do."
His prayer was Not for His rescue, not for His deliverance, not for himself… He cried out for forgiveness, for those who were doing this to Him.
For the sin of crucifying the Lord of Lord and King of Kings. For the Father not to account this against them. To be left off their records of wrong doings, not to blame them for this.
An incredible display of Forgiving Grace.
[TEXT>>] 35 And the people stood looking on… the rulers with them sneered (Mocked), saying, "He saved others; let Him save Himself if He is the Christ (Messiah), the chosen of God." 36 The soldiers also mocked Him, coming and offering Him sour wine, 37 and saying, "If You are the King of the Jews, save Yourself."… 39 Then one of the criminals who were hanged blasphemed Him, saying, "If You are the Christ, save Yourself and us."
Notice the pattern:
—The people began to mock Jesus,
—The religious rulers, soon after,
—The Soldiers joined the mocking,
—Even those hanging on the cross follow suit.
They foolishly cried out—IF YOU ARE GOD, SAVE YOURSELF.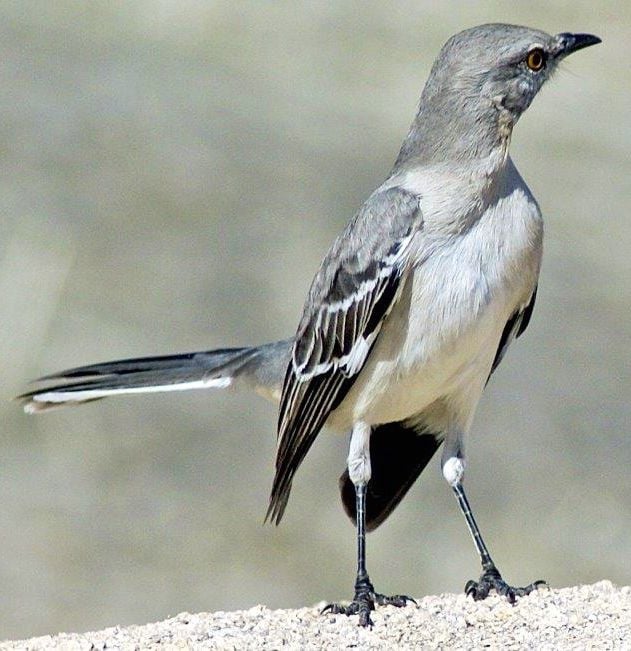 Texas is a natural habitat for a very interesting bird… The Mocking bird… It's name comes from its ability to imitate, copy and join whatever sound it hears… They are best known for their mimicking the songs of other birds and the sounds of insects and amphibians, often loudly and in rapid succession. They don't have a voice of their own… They just repeat whatever they hear.
People behave the same. Many mock God's Creation, His name & His Word…They mock Jesus Christ, Without understanding who He is, or what He has done.
You better be certain that you are not a drone, find for yourself who Christ is & what He has done, that you may be at least sure that it is your own decision that condemns you, and not just following the crowd.
In their Mockery, they derived Jesus to save himself…
Both Jews and Romans and even the criminals saw life from one perspective: self-preservation. —But self-preservation is fleeting.
No person can preserve his or her life for eternity. Eternal life is God's gift, given by the one who died on the cross.
By refusing to save himself, he provided salvation for the world. They were mocking Jesus, enticing Him to do, what would only bring their destruction…
The man who built the Titanic After the construction of Titanic, a reporter asked him how safe the Titanic would be. With an ironic tone he said: 'Not even God can sink it' The result: I think you all know what happened to the Titanic.
Marilyn Monroe,, She was visited by Billy Graham during a presentation of a show. He said the Spirit of God had sent him to preach to her. After hearing what the Preacher had to say, she said: 'I don't need your Jesus'. A week later, she was found dead in her apartment.
Salvation at the cross:
Mark tells us: the robbers who had been crucified with Him started to reproach Him in the same manner. One of the criminals continued to bitterly scorn Him. "Aren't You the Messiah?" he said. "Then save Yourself and us!"
[TEXT>>] 40 But the other, answering, rebuked him, saying, "Do you not even fear God, seeing you are under the same condemnation? 41 And we indeed justly, for we receive the due reward of our deeds; but this Man has done nothing wrong." 42 Then he said to Jesus, "Lord, remember me when You come into Your kingdom."
#1st This criminal respected God
#2nd He knew his own sin
#3rd He knew Jesus
#4th He called out to Jesus recognizing he is Lord
#5th He believed Jesus was who Jesus said He was
A powerful contrast:
Two criminals, two sinners, two lawbreakers, about to die next to Jesus.
One bitterly scorn Jesus, the other says to him: hey, listen, we deserve it, we have broken the Law, we have done what was wrong, we are where we choose to be…
Forgiveness At The Cross!
[TEXT>>] 43 And Jesus said to him, "Assuredly, I say to you, today you will be with Me in Paradise."
These two men were completely and utterly condemned. They had —no future, —no hope,—no coming down from the cross. —They were both sinners, they were both dying.
One continued to mocked, while the other said, "what am I doing? I know this man, I know what he taught, I know his mighty works, why am I mocking Him?"
By the grace of God, he comes to his senses. —He turns to Jesus and —confesses his sins, —asks for mercy, —to be remembered by Him…
Here's the amazing thing… Jesus takes him in…
—This man, was never baptized, —He never did communion, —He never read the bible, —He never told others about Jesus. —As a matter of fact, he couldn't, he only had like hours of life left in him.
—As a matter of fact, he couldn't, he only had like hours of life left in him. Yet Jesus takes him in…
Death-bed conversion
This is the very definition of a Death-bed conversion… So many people, mockingly say: "Well. I'll just wait till I'm in my dying bed… in the meantime Party on…"
But that's like trusting that you will be close enough to a rock to save yourself as you approach the edge of Niagara Falls!"
Let me put it in perspective: out of every 100,000 people, 76.1% of the deaths will be unexpected: may it be injury, fall to death, motor vehicle, or unintentional poisoning. that means that only 23 people out of every 100 will be able to say goodbye to those who they love… that is less than 20% odds that it will happen to you.
Listen, there is a point that it is too late, that point is when you pass the threshold of Physical life to eternal life when you walk through death's door…
There is no time like today to turn to Jesus… No matter how horrible your sin may be.
All —you —need —is Jesus!
This man is the perfect picture of God's Grace in Action:
He came to Jesus with nothing to offer and he left earth with nothing but Jesus. Yet his testimony stands strong throughout the generations. That—All —you —need —is Jesus.
Redemption at the cross:
[TEXT>>] 44 Now it was about the sixth hour (12, noon), and there was darkness over all the earth until the ninth hour (3 o'clock). 45 Then the sun was darkened, and the veil of the temple was torn in two. 46 And when Jesus had cried out with a loud voice…
(John 19:30 "It is finished!" tetelestai—"paid in full"),
[TEXT>>] …He said, "Father, 'into Your hands I commit My spirit.' " Having said this, He breathed His last… 47 So when the centurion saw what had happened, he glorified God, saying, "Certainly this was a righteous Man!" 48 And the whole crowd who came together to that sight, seeing what had been done, beat their breasts and returned. 49 But all His acquaintances, and the women who followed Him from Galilee, stood at a distance, watching these things.
In order for the assurance Jesus gave to the man on the cross to come to pass, the payment for his sin and ours had to take place.
The Cost
On the cross, He bore our sins. –Such cost, such pain…
2 Cor 5:21 "For God made Christ, who never sinned, to be sin, so that we could be made right with God through Christ."
Having become our sin, God the Father turned away from His son even as Jesus cried out, "Eloi, Eloi, lama sabach-thani?" which means, "My God, My God, why have You forsaken Me?"
Darkness covered the earth, as the Father turned away. —A massive earthquake shook the land —and the veil was torn away.
Phlegon, Roman historian wrote this: "In the fourth year of the 202nd Olympiad, there was an extraordinary eclipse of the sun: at the sixth hour, the day turned into a dark night, so that the stars in heaven were seen; and there was an earthquake." (Cited in Clarke)
—When Jesus cried out with a loud voice,
John 19:30 tells us what He said: it is finished, which is one word in the Greek (tetelestai—"paid in full").
This is the cry of Victory! —Jesus paid in full the debt of sin we owed, and —finished the eternal purpose of the cross.
That day a man went to heaven —and men went to hell. —It is a stark contrast of the decision that every man must make.
The question that remains is, will you humble before almighty God and ask for forgiveness, or will you follow the multitudes to eternal separation from God.
Because of what Jesus has done, salvation is available to you. All you have to do is to follow the example given to us by the thief in the cross:
It is a simple as ABC
A- Admit you are a Sinner
B- Believe Jesus is Lord
C- Call upon His name