Click Here for Previews Studies!
BEHOLD YOUR KING IS COMING
Zechariah 9:9 "Rejoice greatly, O daughter of Zion! Shout, O daughter of Jerusalem! Behold, your King is coming to you; He is just and having salvation, Lowly and riding on a donkey, A colt, the foal of a donkey.
Introduction:
What can we say about Palm Sunday? Here's what the Lord spoke to me this week about Palm Sunday.
Unkept promises.
We live in an era of unkept promises. —Nations sign treaties and then break them at will.
Politicians
Politicians make campaign promises they don't keep.—Sadly it is expected.
Woodrow Wilson won re-election in 1916 with the slogan "He kept us out of war," only to enter World War 1 a year later.
— Ronald Reagan promised to make a constitutional amendment allowing school prayer during his campaign".
— George H. W. Bush famously promised in 1988: "Read my lips: No new taxes," only to sign a bill raising taxes during his first and only term.
Closer to home:
Dear friends break their promises: Confidentiality, promises to Help, and sadly Genuine Love.
Closer to the heart:
Family break promises:
Couples show little regard for their wedding vows.
Parents: "I'll think about it."
Kids: "I'll clean the room definitely on Sunday"
The value of any promise is dependant on the ONE who gives it.
Politicians = trust none.
Friends= trust some.
Kids = trust many.
Parents = trust most.
From the Lord = trust ALL. —Because He is the only one who never fails to keep His promises.
A Remarkable Reminder, God keeps His promises!
Palm Sunday, is a remarkable reminder of God's faithfulness to keep His Word. A 500-year-old prophecy was fulfilled on this very day.
Entering Jerusalem He was received with Joy. But they missed the fullness of God's promise.
There are three unchangeable principals I want to remind you of today:
#1) God fulfills His promises.
#2) He lets us be part of it.
#3) Blessed are those who are watching for them.
1 John 2:18 "Dear children, the last hour is here. You have heard that the Antichrist is coming, and already many such antichrists have appeared. From this, we know that the last hour has come."
In these troubled times, don't fix your eyes on the chaos. Rather keep your eyes on the Sky. The Minute hand is closer to midnight than ever before!
THE LORD HAS NEED OF THEM
(He lets us be part of it)
Luke 19:29–35 29 it came to pass, when He drew near to Bethphage and Bethany, at the mountain called Olivet, that He sent two of His disciples, 30 saying, "Go into the village opposite you, where as you enter you will find a colt tied, on which no one has ever sat. Loose it and bring it here. 31 And if anyone asks you, 'Why are you loosing it?' thus you shall say to him, 'Because the Lord has need of it.' " 32 So those who were sent went their way and found it just as He had said to them. 33 But as they were loosing the colt, the owners of it said to them, "Why are you loosing the colt?" 34 And they said, "The Lord has need of him." 35 Then they brought him to Jesus. And they threw their own clothes on the colt, and they set Jesus on him.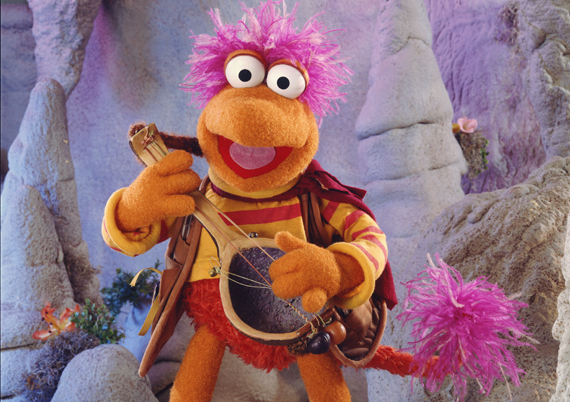 Gobo Fraggle. "Catch a tail by the tiger, Take the horns by the bull, A bird in need is a friend indeed, So pull the eyes over the wool. "Uh, Gobo I think you got it backwards, the saying is that you, Gotta catch a tiger by the tail, Sure, If you want to do it the easy way. On the other hand If you really want bravery. then you gotta."
Walking with Jesus is an incredible adventure of faith.
1st) Walking with Jesus is an incredible adventure of faith. But it takes faith and obedience to truly enjoy the journey.
Faith is walking in obedience in the face of fear and insecurities. The Disciples maybe were nervous about the instructions. —But their faith was rewarded in every step. —He had prepare the way!
To be used by the Lord, you must be willing to walk by faith, knowing the Lord has gone before You, in what He has called you to do. —As a disciple of Jesus Christ, the blessing found in the obedience to His voice, even when you are nervous.
Because the Lord has need of it?'
2nd) 'Because the Lord has need of it?' Why would the Creator of all things have need of anything? The reason He borrowed a manger, a boat, a donkey, an upper room, and a tomb is because:
"He who was rich for our sakes became poor (2 Corinthians 8:9)".
He chose to place Himself in a position where He would need to partner with us in order to see His will worked out through us. —God didn't have to…
He chose to place Himself in a position where He will not do what He desires to do in our families, communities, workplaces, marriages, or schools without our partnering with Him. Through our obedience, and through possessions.
Why? Because there is a great blessing involved for those who partner with God to do His work. And He's getting us ready for the next Million years when we will be ruling and reigning with Him.
BLESSED IS HE
Luke 19:36-38 36 And as He went, many spread their clothes on the road. 37 Then, as He was now drawing near the descent of the Mount of Olives, the whole multitude of the disciples began to rejoice and praise God with a loud voice for all the mighty works they had seen, 38 saying: " 'Blessed is the King who comes in the name of the Lord!' Peace in heaven and glory in the highest!"
One Palm Sunday, a little boy had a sore throat and had to stay home from church with a sitter. —When the rest of the family came home, they were carrying palm branches. —The little boy asked what they were for. —His father told him that people held them over Jesus' head when he walked by. In a sad, disappointed voice, the little boy said, "Wouldn't you know it? The one Sunday I miss, Jesus shows up!" –
HISTORY:
Josephus tells us that the estimated crowd at the time of Jesus entrance to Jerusalem was about 2,700,000, over a quarter of a million lambs for this Passover feast. —Minimum of 10 people per lamb.
Most of Jesus' ministry, He was despised and rejected of men. Often crowds followed Him only for what they could get from Him, and most rejected any kind of personal commitment to Jesus.
But this day, they lavished Him with honor and attention, they used their own clothes as a saddle for Jesus. They laid their own coats as a red carpet for the colt He rode on.
The crowds, who went before and those who followed were shouting: "Hosanna! 'Blessed is He who comes in the name of the LORD!'" —Hosanna, save us… now.
TO FULFILL THE PROMISE
Matthew 21:4–5 4 All this was done that it might be fulfilled which was spoken by the prophet, saying: 5 "Tell the daughter of Zion, 'Behold, your King is coming to you, Lowly, and sitting on a donkey, A colt, the foal of a donkey. ' "
Nine times Matthew uses the very specific phrase "that it might be fulfilled" in the Gospel of Matthew.
But that is just the tip of the iceberg of the amount of prophecies Jesus Fulfilled, He fulfilled more than 300 prophecies.
What are the chances
What are the chances that the three hundred-plus prophecies given concerning Messiah would be fulfilled by one man?
Mathematically: 1 in 100000000000000000000000 (23-0s) or 1 in 10 to the twenty-third power.
Think of it this way:
Suppose the entire state of California was covered with acorns three feet deep—one of which was painted green. You and a squirrel go up in an airplane, and, as you fly over the entire state of California, you open the door and shove the squirrel out.
After landing safely, he wanders up and down the state until he feels hungry and decides to eat an acorn.
The chance of him choosing the green acorn would be 1 in 10 to the twenty-third power, the same chance that all of the prophecies concerning the Messiah would be fulfilled in one man.
He will fulfill every promise of God for us, for the world and eternity!
It reminds us of the reality that "God says what He means, and He means what He says." God never breaks His promises!
Just as He fulfilled Zechariah 9:9 even after 520 years of it being declared, He will fulfill every promise of God for us, for the world and eternity!
Heb 6:17-18 "God also bound himself with an oath, so that those who received the promise could be perfectly sure that he would never change his mind. 18 So God has given both his promise and his oath. These two things are unchangeable because it is impossible for God to lie. Therefore, we who have fled to him for refuge can have great confidence as we hold to the hope that lies before us.
2 Cor 1:20 "For all the promises of God in Him are Yes, and in Him Amen, to the glory of God through us."
All of these checkmarks for what makes a good Sunday service:
Servants,
People to minister to…
The praise and worship were on fire…
People were giving "literally the coats off their backs"
Prophecy was being fulfilled, and
They were calling out to Jesus to be saved…
This was a Sunday worship service like none other.. I would figure Jesus would have been excited to see this…"
RECOGNIZE THE TIME OF GOD'S COMING.
Luke 19:41-44 41 Now as He drew near, He saw the city and wept over it, 42 saying, "If you had known, even you, especially in this your day, the things that make for your peace! But now they are hidden from your eyes. 43 For days will come upon you when your enemies will build an embankment around you, surround you and close you in on every side, 44 and level you, and your children within you, to the ground; and they will not leave in you one stone upon another, because you did not recognize the time of God's coming to you."
Israel missed another appointment…
Israel missed another appointment…
1st) They were not ready for Jesus' birth in Bethlehem, (the wise men looking for His coming. While Israel, had the prophecies.)
2nd) now they missed Daniel's prophecy, a prophecy so powerful and accurate that even the day of his coming was predicted.
A prophecy so powerful and accurate
Daniel 9:25 "Now listen and understand! Seven sets of seven plus sixty-two sets of seven will pass from the time the command is given to rebuild Jerusalem (Xerxes 457 -Bc) until a ruler—Messiah the Prince—comes.
A total of 483 years exactly would pass.
But you could even count it to the exact date of the event to 178, 880 days.
Using our calendar correction for dates between Jewish and Gregorian calendars we are roughly speaking between April 13 A.D. 31…
The whole nation should have been there, awaiting their Messiah…
They missed both appointments; because while they knew about it, they were not living in expectation of it, and therefore they had lost the value of His coming.
Don't Fall in the Same Trap
We can fall in the same trap. Many also are in danger of missing One of two divine appointments. First for Salvation and the 2nd for redemption! (Luke 21:28).
God's word inundates our lives, on TV, Facebook, youtube, our phones. Yet such is the abundance that we can grow indifferent towards the promises of God and lose the value of living in expectation of the imminent return of Jesus Christ.
He has promised to return for His people:
John 14:2–3 "In My Father's house are many mansions; if it were not so, I would have told you. I go to prepare a place for you. 3 And if I go and prepare a place for you, I will come again and receive you to Myself; that where I am, there you may be also."
1 Thes 4:16–17 "For the Lord Himself will descend from heaven with a shout, with the voice of an archangel, and with the trumpet of God. And the dead in Christ will rise first. Then we who are alive and remain shall be caught up together with them in the clouds to meet the Lord in the air. And thus we shall always be with the Lord."
When?
Matthew 24:36 "But of that day and hour no one knows, not even the angels of heaven, but My Father only.
Know the signs:
Mt 24:3 …His disciples came to him privately and said, "Tell us, when will all this happen? What sign will signal your return and the end of the world?"
… Lk 21:10–11 ... Then He said to them, "Nation will rise against nation, and kingdom against kingdom. 11 And there will be great earthquakes in various places, and famines and pestilences; and there will be fearful sights and great signs from heaven.
The Blessing of living in expectation.
Luke 12:37 "Blessed are those servants whom the master, when he comes, will find watching. Assuredly, I say to you that he will gird himself and have them sit down to eat, and will come and serve them."
Matthew 25:13 (10 virgins) "Watch therefore, for you know neither the day nor the hour in which the Son of Man is coming."
Conclusion:
We are living in parallel times to the days before Jesus entered Jerusalem. We should not be ignorant of his word and fail to recognize the time of his coming.
We have a part to play in this Heavenly Scenario.
We are the one Jesus uses to reach a dying world, through our life and resources.
We get to Proclaim Hosanna, Jesus saves in this time of uncertainty.
We get to trust in God's promises of His provision- salvation, and love.
We get to live under the blessing of the expectation of His imminent return.
Luke 21:28 "Now when these things begin to happen, look up and lift up your heads, because your redemption draws near.