Thyatira (Continual Sacrifice) | Revelation 2:18-29
[For our Previews Studies in Revelation, click Here]
Revelation's Devine Outline: Revelation 1:19 "Write the things which you have seen, and the things which are, and the things which will take place after this."
In Chapter 2 and 3 we find 7 letters —Directed and dictated by Jesus to the 7 churches in Asia.
Each letter follows the same pattern:
1) Introduction: (Jesus description, Ch 1:12-17)
2) Commendation:
3) Critique:
4) Prescriptions: (Improve or fix)
5) Promise:
The 7 churches give us —The chronological flow of church history, —from the apostles to the present.
1) Ephesus, = The apostolic church (age of the apostles),
2) Smyrna, = The Persecuted Church (Starting with Nero 63 AD to Diocletian 310 AD = 10 waves of persecution)
3) Pergamos, =The Compromised Church(300 AD Satan joined the Churched under Constantine = The religion of the Empire), |
4) Thyatira, = Catholic Church —Work based (Birth of the Catholic church: Papasy, Justification by works, Celibacy, Confession, Mariolatry, Purgatory, Penance, indulgences, etc.. (300s-1500s) |
5) Sardis, = The dead Church: (Name but not alive) |
6) Philadelphia, = The Favored Church (The Church of brotherly Love- Open door set before them We need to be) |
7) Laodicea. =The LukeWarm Church: (Seeker friendly, neither hot nor cold. Doesn't stand for truth. >>> [The Last 4 are still around today])
The Flow of the Church One by One:
1) Ephesus, = The apostolic church (age of the apostles),
2) Smyrna, = The Persecuted Church (Starting with Nero 63 AD to Diocletian 310 AD = 10 waves of persecution)
3) Pergamos, = The Compromised Church/mix marriage

300 AD Satan joined the Church under Constantine.
He Christianized Eastern practices (Easter/Ishtar, Christmas/saturnalia.
Babylonian priest were tall pointy hat Pontifex Maximus
Should we celebrate these holidays? Absolutely Yes. But we must be aware, as not to be caught ignorant of these things.
Jesus celebrated Hanukkah (feast of Dedication), Not a bible holiday – but He used it to teach the truth "He is the light of the World")
4) Thyatira = Historically: It was the smallest and insignificant of the churches to whom Jesus writes.

Not a fancy city, a military outpost and many guild trades were there. Including the wool workers, and makers of purple. (Lydia Acts 16)

Thyatira's name means Continual Sacrifice! Spiritually in the flow of Church history, it represents the The Roman Catholic Church. From 600 AD to 1500s AD.
If you have a Catholic background, don't be angry, because next week we are going to deal with Protestants when we get to Sardis.
At least the Lord has some good things to say about Thyatira and Pergamos. He doesn't have anything good to say about Sardis.
There is something in the messages of Jesus to the churches to offend everybody. And we should not just ignore it. Rather if Jesus says there is something wrong with what we are doing as a church, or personally, I want to know it, and change!
Ps 139:23–24 "Search me, O God, and know my heart; test me and know my anxious thoughts. "Point out anything in me that offends you, and lead me along the path of everlasting life."
I don't want my traditions to be more important than His word. I want to hear what the Lord is saying to me. And if there is something wrong or off in the way I am living, I want to be open so God can reveal it to my heart and show me.
You can not defend church History:
When church and state merged it had the name of Christianity. It did many things that had nothing to do with Christianity. Jesus told us it would be so. Matthew 13, He gave us three Parables:
Tares and the wheat, Matt. 13.25-30 . The enemy sowed Tares. Tears look like wheat, but are not wheat. They are not real fruit. They are fake.
Mustard Seed, Matt. 13.31-32. It grows to be a tree. Abnormal growth (Satan joined the church). "Birds" are always a symbol of evil.
Parable of Yeast, Matt. 13.33-35. Woman puts leaven on the though. 98 times out of the Bible, leaven is a picture of sin. Sin would come in a corrupt and permeate.
That is exactly what happened in Church History. We see this corruption in Roman Catholicism and Protestants alike.
Introduction:
[TEXT>>] 18 "And to the angel of the church in Thyatira (continual sacrifice) write, 'These things says the Son of God, who has eyes like a flame of fire, and His feet like fine brass:
Jesus description to the churches always comes from Rev 1:12-17.
Jesus is in church. In every single one of these churches. The Bible commands us, in Hebrews 10:25 "Do not forsake the gathering"
"But is corrupt, it is filled with Hypocrites…" People say. True, but Jesus is Here, He is all that matters. If you Listen, He will speak to you. He shows up when we are gathered together.
"Eyes like a flame of fire, and His feet like fine brass" His eyes speak of discerning, being able to see what truly is real and what is fluff. And Brass is always Picture of Judgement.
Commendation:
[TEXT>>] 19 "I know your works (The Lord lays out 6 different things the Catholic Church has done well), 19 #1) "I know your works #2) love, #3) service, #4) faith, and #5) your patience; and #6) as for your works, the last are more than the first.
No organization has built more orphanages, more Hospitals, more Schools than the Catholic Church.
Even today they stand up for pro-life, pro sanctity of marriage. They have done wonderful things and they do not go unnoticed by the Lord.
There's a Difference between the Roman Catholic Church System, and the people. There are some believers in their midst, who are saved. who have trusted in Jesus for salvation. who understand the Gospel. But not many.
Critique:
[TEXT>>] 20 Nevertheless I have a few things against you, because you allow that woman Jezebel, who calls herself a prophetess, to teach and seduce My servants… to commit sexual immorality and eat things sacrificed to idols.
Sexual immorality: Sexual immorality in the Bible also speaks in the Spiritual sense, not only the Physical aspect.
If we turn our heart from the living God to other gods that is spiritual sexual immorality, spiritual fornication.
[TEXT>>] 21 And I gave her time to repent of her sexual immorality, and she did not repent.
As we study Revelation, this will jump off the page, we will come across this phrase "And yet they did not repent" over and over again.
The reality is, that even "The Great Tribulation" is the picture of the Love of God towards man.
It is like: God the Father dealing with teenage kids, He tries to reason with them but they would not listen. And so He corrects them, and they still not listen; they do not repent, no matter how heavy the hand of correction gets.
Correction is not hate, correction is love (Heb 12:6). Correction is saying "I don't want you to die in your sins" (Jn 8:24) The Lord wants all to come to repentance (2 Pt 3:9), all to give their hearts to the Lord.
Prescriptions:
[TEXT>>] 22 Indeed I will cast her into a sickbed, and those who commit adultery with her into the great tribulation, unless they repent of their deeds.
The Church at the Rapture, real Christians will be raptured out of the Catholic Church. But the Organization will still be here after the rapture. As well as spiritual dead Protestants.
[TEXT>>] 22 Indeed I will cast her into a sickbed, and those who commit adultery with her into the great tribulation, unless they repent of their deeds. 23 I will kill her children with death (those brought up and raised under the System, and following that system), and all the churches shall know that I am He who searches the minds and hearts. 23 And I will give to each one of you according to your works (What you deserve. Justice. I don't want Justice, I want grace!).
Quick History of the Catholic Church (1500 yrs):
Again Church history is indefensible. Many evil deeds were done under the name of Christ. (Read Foxe's book of Martyrs)
The Clergy and Laity rose up:
(Not Biblical) As It grew in power and corruption. The Birds of the air set in, the leaven spread with its wickedness. The church began to do evil things beyond belief.
The inquisition: Exactly what Jezebel did. She developed idolatry (Baal worship) and brought it into Israel.
1 Kings 21. Ahab and Naboth: Naboth's vineyard was beautiful. Ahab (the king) wanted to buy it, but he would not sell it. Ahab was jealous and sad. Not a problem, Jezebel said, she threw a great feast, invited important people, Naboth (guest of honor) Two scoundrels accused who accused him of blasphemy. Naboth got stoned and killed, and Jezebel gave Ahab the property .
Wealth through bloodshed:
That is what the church did during the great inquisition. They tortured people until they signed the confession. Then they were murdered, and then their property was confiscated…
The Catholic Church is the wealthiest entity in the world today. Europe castles, they are owned by bishops and priests.
Celibacy:
Does the bible teach that priests can not marry? Yet we have celibacy, for its priests, for one single reason, money…
If the priest got married, had kids, he had to divide the wealth. But this way they are married to the church (wedding ring), when they die, everything stays with the church.
If a priest has an affair, or molest children, he is still a priest, they move him somewhere else. If a priest gets married, he gets kicked out of the church.
Evil doctrines without scriptural basis:
The same thing happened in South America. Lima Peru: Catholic Cathedral's basement. Museum you buy a ticket to go see.
Where the wealthy landowners were accused of blasphemy, incarcerated in the Cathedrals basement, tortured, killed and stripped of their land.
Today, there you can see the arranged bones of over 70,000 people they tortured during the great inquisition.
Selling Heaven:
Pope Leo X (the 10th) wanted to build Saint Peter's Basilica. But he did not have money. So he came out with the multiple fundraising doctrines, like:
Doctrine of Purgatory:
Purgatory is not in the Bible, but it became a great fundraiser for the church. Because, your loved one could not go to heaven. Thus he went to purgatory, thus you had to pay money to have priests pray them out of purgatory.
They even had a jingle "as soon as the coin in the coffer rings, the soul in purgatory sings" Saint Peter's Basilica, they needed a lot of money, .
Selling indulgences:
Another popular fundraiser. If you wanted to do something really sinful on Saturday night, you just had to go to the church on your way, pay a lot of money and be forgiven of your sin… Free to Sin! (Made more money bthan a bake sale!)
The Immaculate Conception:
Not of Jesus but of Mary, the perpetual virginity of Mary… whom they call queen of heaven, same name as Semiramis.
(Honestly most catholics don't know these things)
How can Catholics allow and practice doctrines that are not biblical?
In St. Peter's Basilica, there's a round window with a picture of a dove.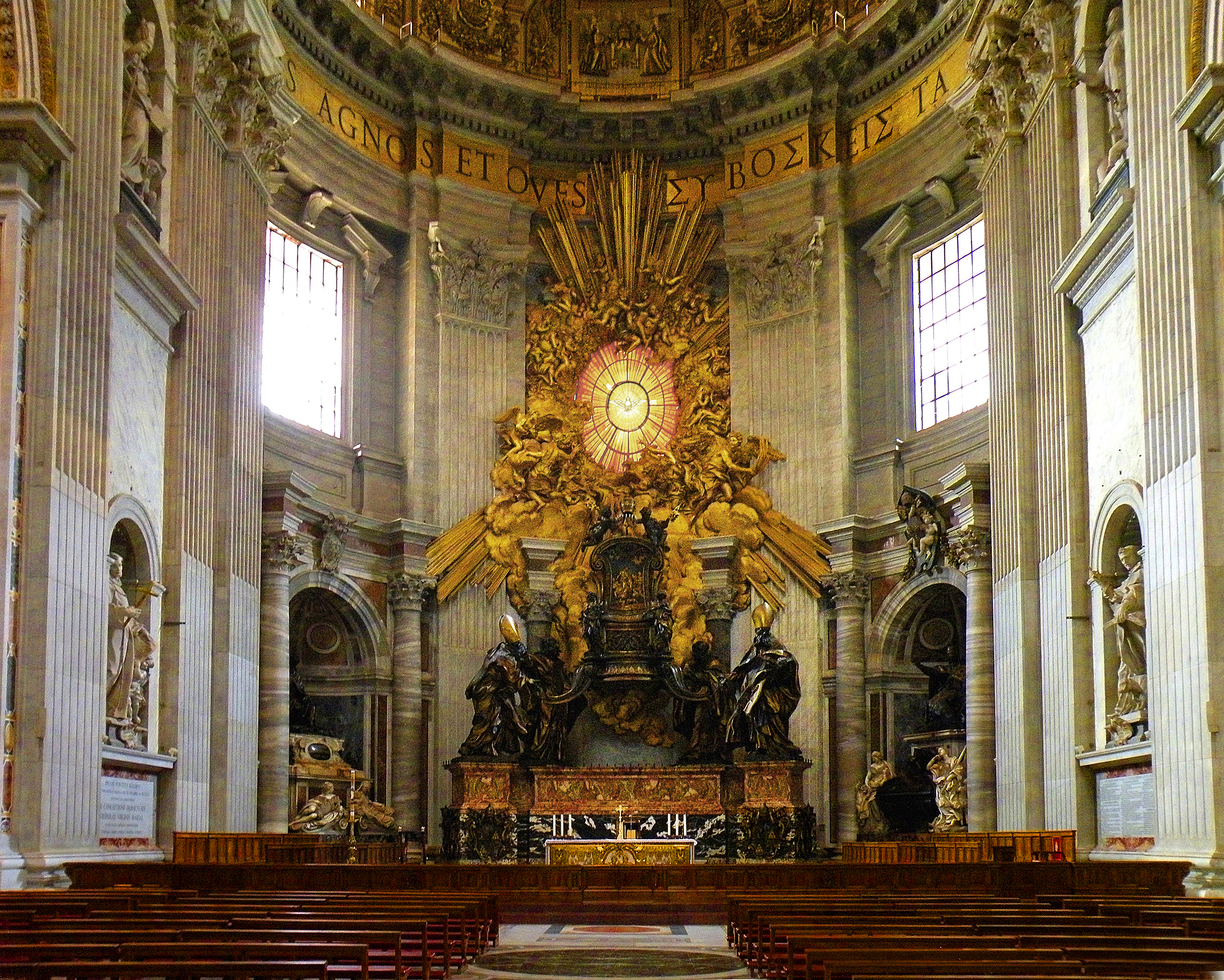 Below it sits a sculpture of 4 bishops holding a huge throne. It is called the "The seat of wisdom."
It exemplifies how the catholic church comes up with its doctrines. The Holy Spirit, speak to the popes who sits on the chair. The pope speaks ex-cathedra (infallible) thus the teaching of the church super-seeds the word of God. Not all catholic people believe nor know of many of these doctrines.
According to Catholic doctrine all of us who are not part of the Roman Catholic church.
Our founding Fathers
Our founding Fathers were adamant of not having a church state religion. Because they were being persecuted and murder for their faith in Jesus Christ.
[TEXT>>] 24a "Now to you I say, and to the rest in Thyatira, as many as do not have this doctrine, who have not known the depths of Satan, as they say,…
Because Satan joined the Church; As examples: Two Popes both infallible tried to kill each other. The Rule of the Harlots… a Time of Unbelievable immortality.
TEXT>>]24b … I will put on you no other burden. 25 But hold fast what you have till I come.
In Heb 6:19 "This hope we have as an anchor of the soul,"
The hope that we have in Jesus is the anchor to the soul. He is telling the remnant, hold on to your faith in me. Don't let me go, don't lose me in the midst of all the religious commission.
Promise:
[TEXT>>] 26a And he who overcomes…
Re 12:11 "And they overcame him (Satan) by the blood of the Lamb and by the word of their testimony, and they did not love their lives to the death."
.[TEXT>>] 26b… and keeps My works until the end, to him I will give power over the nations— 27 'He shall rule them with a rod of iron; They shall be dashed to pieces like the potter's vessels'— as I also have received from My Father; 28 and I will give him the morning star…
Rev 22:16 "Jesus is the Bright and Morning Star"
.[TEXT>>] 29 "He who has an ear, let him hear what the Spirit says to the churches." '
You can never just have a System of Salvation. It can never be an outward religion of Salvation. It has to be a Living Relationship with Jesus Christ.
Works: All of these are great things to have as part of the church. But they can not and should not become the only relationship we have with God.
Works without putting Jesus in the right place in our lives does not mean we are saved. Works do not replace a true living relationship with Jesus.
Jn 6:28–29 "What shall we do, that we may work the works of God?" "Jesus answered and said to them, "This is the work of God, that you believe in Him whom He sent.""